Take in Benalla and our rural villages by taking a day trip with one of our self guided tours.  These tours are a great opportunity to see the rural areas and support various businesses.
All tours start and finish in Benalla.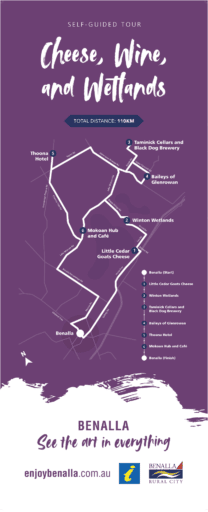 Cheese, Wine and Wetlands

Total distance: 110kms
Start: Benalla (around 2.5 hours from Melbourne)
This tour takes in approx 15km of unsealed road through the Winton Wetlands and access to Taminick Cellars/Black Dog Brewery.
Depart Benalla and head to the Hume Highway.  Follow the Highway and turn left at the Winton North turn off, Bowers Road.  Little Cedar Goats Cheese is on the left hand side.
Little Cedar Goats Cheese
21 Bowers Rd, Winton North
'Little Cedar' is a family run business where they aspire to live wholesome life on the land.  "Little Cedar' make a range of specialty goat cheese on their farm from dairy goats and sell locally.
Cafe is open Friday and Saturday 10am - 3pm
Little Cedar is closed during the winter months for 'kidding' and will reopen in Spring.  More information can be found via their website - www.littlecedar.com.au
Winton Wetlands
Via Goulds Road (7.1 km of unsealed road).
Point of interest - Ashmeads Swamp - outdoor water gallery
At the Give Way sign, turn right
Point of interest - CFA Water Tank - Artist Guido Van Heten
At the water tank turn left on Boggy Bridge Road
Point of interest - Check out the Fish Trees - Artist Tim Bowtell
At the Give Way sign turn right and follow to the end and turn right onto Glenrowan - Boweya Road, turn left at Booths turn off.
Taminick Cellars
339 Booth Rd, Glenrowan
Taminick Cellars have been making red, white and fortified wines since first generation winemaker, Esca Booth, purchased the property in 1904.
The cellar was built from local stone by Esca in 1914, sit on the side of the Warby Ranges overlooking the beautiful Taminick Vallery and estate vineyard.
Cellar Door is open Monday - Satruday  from 9am - 5pm and Sundays from 10am - 5pm.
Black Dog brewery is open 12pm - 5pm Thursday to Monday and closed Tuesday and Wednesday.
Baileys of Glenrowan
779 Taminick Gap Rd
Before settling in for some great wine tasting, discover the history of the original 1870 winery.  Pick up a self-guide map from the cellar door.  Wander the drounds and see the Clydesdale stables, native gardens and much more.
Bundarra Organic Kitchen is open for lunch Saturdays and Sundays from 12pm - 3pm. Bookings are essential.
After departing Baileys, either head back to Benalla via the Mokan Hub (Winton Wetlands) and see the new Sculpture Walk - Lotjpatj Natjan Danak or for a little more adventure continue straight and follow the signs to Thoona.
Thoona Hotel
The hotel is nestled at the foot of the Warby ranges.  Drop in for a beverage and return back to Benalla via Chesney Vale Road or Lake Mokoan Road.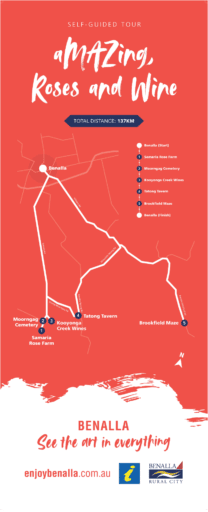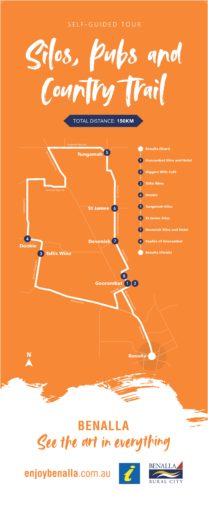 aMAzing, Roses and Wine
Total distance: 137kms
Start: Benalla (around 2.5 hours from Melbourne)
Samaria Farm
2520 Samaria Rd, Moorngag
Samaria Farm is essential for your body, mind and soul.  The farm is spread over 22 acres of rolling hills in Northeast Victoria, with 3000 Damask roses as well as olives, lemon myrtle and citrus groves.
Access to the farm is for groups via appointment only or by staying at their accommodation.  https://www.enjoybenalla.com.au/listing/samaria-rose-farm-bb-moorngag/
Moorngag Cemetery
See the latest art installation by local artist Michael Larkin inside the cemetery.
Kooyonga Creek Wines
2369 Samaria Rd, Moorngag, VIC
Kooyonga Creek Wines is a family-owed winery at the foothills of Mt Samaria, in Northeast Victoria.  On the single vineyard estate they produce Sauvignon Blanc, Chardonnay, Shiraz,  Cab Sauv, Merlot and have recently  started producing a Rose and Sparkling Shiraz.
Open Friday – Sunday (including Public Holidays) 11am – 5pm
Tatong Tavern
2581 Benalla- Tatong Rd, Tatong
The Tatong Tavern is an English style country inn situated in the small rural community of Tatong, only 25 kms from Benalla.  Set in the foothills of the Great Dividing Range, it's the perfect place to eat and stay.
Closed Monday and Tuesday.
Meals available from 11am.
Brookfield Maze
1121 Benalla-Whitfield Rd, Myrrhee
Weave through our traditional hedge maze, play hide and seek in our extensive gardens and immerse yourself in fun family games before heading to the cafe for lunch. Come for the day or even stay for the weekend to rest and rejuvenate in our country oasis!
Maze is open every Saturday and Sunday from 10am – 4pm.
Depart the Maze and return to Benalla via the Kilfeera Road
Silos, Pubs and Country Trail

Total distance: 150km
Start: Benalla (around 2.5 hours from Melbourne)
Goorambat Silos and art
Halls Rd, Goorambat
See artworks by Jimmy Dvate and Simon White.  Not only will you see the silos, keep a look for the Nankeen Kestrel on the big shed as you enter town and also check out the toilets.
Diggers Wife Cafe
Halls Rd, Goorambat
The Diggers Wife Cafe is a social enterprise business operated by the Goorambat Veterans Retreat Inc. to support Veterans & families in need.  They provide fabulous food and beverage options.
Tallis Wines
195 Major Plains Rd, Dookie

A visit to Tallis Cellar door and its ever changing landscape will leave you revived and inspired.  You'll enjoy distinctive wine, seasonal grazing platters and warm hospitality every time you visit.
Open Wednesday & Thursday 11am - 4pm
Friday, Saturday and Sunday 11am - 5pm
Dookie
Dookie is located within the rolling hills of Mount Major and Mount Saddleback.  Spend as little or as long as you like in Dookie.
Points of Interest - Nomadic Silos, Red Flowering Gum Tree, The Gladstone Hotel, Dookie Artist Tree, Emporium, Dookie General Store and the Rail Trail.
Businesses will have independent opening hours.  Contact operators directly.
This trail will continue along the North East Victoria Silo Art Trail 
Enjoy lunch at  Devenish Railway Hotel open everyday except Wednesday from 11am or Goorambat Railway Hotel open Wednesday - Sunday from 12pm.