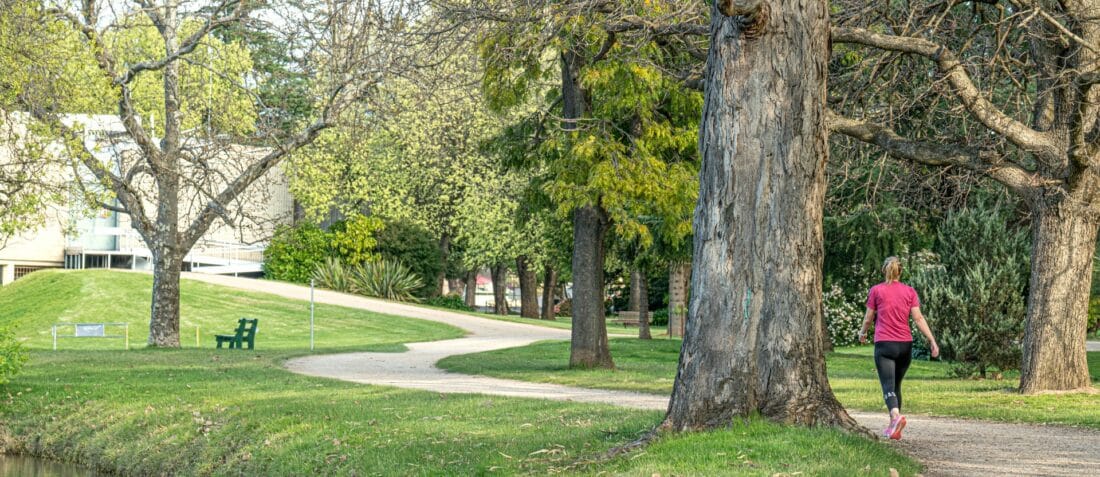 Benalla is a great place for walking.  So whether your looking for a casual stroll or a walk to the Mt Samaria Summit, there is a walk to suit all fitness levels.  Stay in town and meander the streets looking at street art,  walk beautiful Lake Benalla,  or travel a short distance to stunning State  and National Parks, camping reserves and the significant Winton Wetlands.
Benalla Botanical Gardens provides an all accessibility walk. - https://walkingmaps.com.au/walk/5674
Mount Samaria State Park boasts spectacular vistas over the Victorian Alps, granite outcrops, plunging waterfalls, abundant native birds and wildlife, colourful wildflower displays and historic remnants of old logging sites.
Explore this semi remote park by foot and discover its tranquility and beauty with a range of walking tracks that cater for all abilities. There are opportunities for short walks through to full day and even overnight hikes accommodated by several camping sites within the park including Samaria Well, Wild Dog Creek Falls, Camphora and Spring Creek Saw Mill.
James' Camping Reserve – Lima East
James' Camping Reserve is nestled on the banks of the Moonee Moonee Creek in the Strathbogie Ranges and offers many walking tracks through the surrounding forest and along the local creek. The Reserve is in close proximity to the Crystal Mines and Tallongalook Track (south of the campsite) and its claim to historical fame is that it served as a hiding place for the Kelly Gang.
Jones' Camping Reserve – Tatong
Jones Camping Reserve is a quiet slice of bushland and forested valley in the Toombullup Ranges south of the Tatong village. A network of tracks snaking through the bush is very popular with walkers.