North East Victoria Silo Art Trail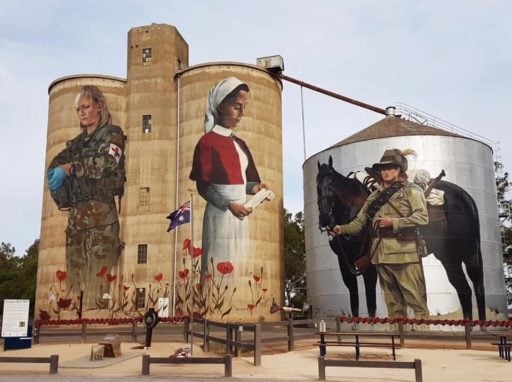 Duration: 2 hours round trip from Benalla
Total distance: Approximately 132 kilometres
Start: Benalla (around 2.5 hours from Melbourne)
Take a road of discovery  on the North East Victoria Silo Art Trail, where you will experience art in a large scale and not in a gallery.   Art works have been completed by street artists: Guido Van Helten, Sobrane, Cam Scale, Adnate, Dvate and Benalla's very own Tim Bowtell.
The trail can be completed in approximately 2 hours, however we suggest longer if you really want to take in the landscape in all its glory.  For directions, pop into the Benalla Visitor Information Centre or click on the map link below.
Follow the North East Victoria Silo Art Trail, linking together the small towns of Goorambat, Devenish, Tungamah and St James and the significant  Winton Wetlands.  Start in Benalla, which is home to the Wall to Wall Street Art Festival.
From Benalla drive on to the small town of Goorambat, where you'll find four works of public art. The grain silos feature three works by Melbourne street artist Jimmy Dvate.  'Sophia' was painted by Adnate and its his depcition of the female aspect of the Holy Trinity on the wall inside the Uniting Church.  Recent edtions to the trail include the painting on Nankeen Kestrel on the big shed on arrival into Goorambat by Jimmy Dvate and also the toilets have been painted by Simon White.
Continue along the trail to the town of Devenish, where Cam Scale's three towering murals pay homage to local community involvement in military service.  Recent editions to Devenish include the railway painting on the horse stables near the hotel, painted by artist Tim Bowtell.
Continue on for the short drive to St James, where local Benalla artist, Tim Bowtell.  Tim  has dedicated this mural to Sir George Coles, a St James local who founded Coles supermarkets.
Next on the trail is Tungamah, where Sobrane Simcock was the first Australian female street artist to participate in the silo project, painting dancing Brolgas and a Kookaburra onto the privately owned Tungamah Silos in 2018.  These silos were updated in 2019.  Sobrane has also painted the side of the pub and also the information centre.
Finish your journey along the North East Victoria Silo Art Trail in the Winton Wetlands, where Guido van Helten painted portraits of three local Country Fire Authority (CFA) volunteers on a water tank in 2017. The tank can be found along the self-drive Art Trail within the wetlands, featuring works such as 'Martins Barge' and the famous 'Fish Trees'.  Access to the Winton Wetlands is via an unsealed road.
Whilst a the wetlands no visit is complete without experiencing the LotjPatji Natjan Danak Sculpture walk.
Download a copy of the map  here SiloArt_Info_2023